I came across the Fairlane at a consignment auction in Gardner.  My wife's uncle is a Dodge/Plymouth/Chrysler collector/auctioneer and this car came into the auction.  I am a huge Beatles fan and the car came out about the same time as St. Pepper's Lonely Hearts Club Band.  I just love the "Summer of Love" color scheme.  This is the first Ford I've owned and I've only had to do minor mechanical and cosmetic work on it in the past 12 years.  The car was originally purchased in Illinois but that is the only record I have of ownership.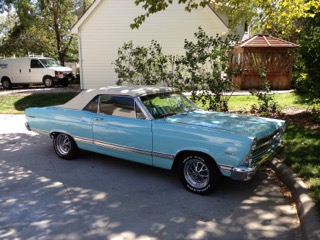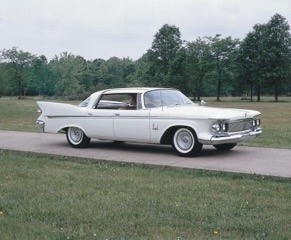 I first saw a 1961 Imperial at Smith's Motor's in east Lawrence about 20 years ago.  I instantly fell in love with avant garde instrument panel, the self-standing headlights, and the hanging tail light, not to mention the outrageous fins.  It took me another 10 years to find this one.  I purchased it from a person in Wisconsin who inherited it from a grandparent in Midland, Texas.  I've replaced the interior and had the motor rebuilt.  It is one of the smoothest rides I've ever had.
The Cord was my father's favorite car.  He first saw one at a gas station my grandfather was managing in Lone Jack, Missouri in about 1940.  He said it was love at first site.  From as early as I can remember, my father would tell me about all the innovative engineering feats of the Cord and how dramatically different it was from all the other cars of the time.  I built a number of models of Cords while growing up.  After my father retired, we tried to find one for him to buy but it was pre-internet and very few were for sale.  We lost my father in 2008 but I continued to search for a Cord.  In late 2015, my wife asked what I wanted for
Christmas and I showed her a website advertising this car.  She surprised me Christmas morning with my favorite Scotch and a note that the car would be there the following week!  This Cord came from an estate auction in a Chicago suburb and was in the same family for decades.  Innovative features include: Front-wheel drive, Electronic-pregear selector, locking gas cap, steering wheel horn ring, and hidden headlights.